In blouse without sleeves need to reduce the armhole depth and width. To do this, reduce the width of the front and back of bodice basic patterns 1 cm on the chest (attached to bodice). Connect the resulting points by straight lines with points of the side cut on the waist line. Then continue those lines up a bit (figure 130, solid line ). From the top side of the cut ( 1 cm above the breast line) draw a smooth curve line of openings (solid lines).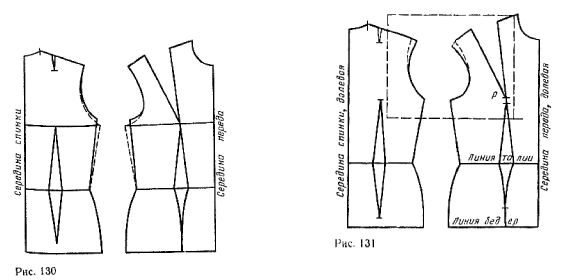 The contour of the openings on the base curve defines the length of the shoulder cut on the back and the front. Typically, the arm is following the contour of the joints of the hands with the torso. In the case of under the armhole increase the length of the shoulder cut. Classic the amount of lengthening of the shoulder cut is about 1.5 cm Is a minor change to the armhole visibly changes the appearance of clothing, but does not require a correction of crown sleeves.
The product with the casting sleeve, the underestimation of the line of openings it is possible to a certain limit. With a significant underestimation of the armscye curve use curve-fitting kimono.
Put on a sheet of paper, the base pattern (part of the curves bounded by the dashed lines , figure 131). Continue the line of the shoulder seam of the front and back on a smooth curve. Put 1.5 cm of the initial line of openings, then connect the resulting point to a smooth line with the line of openings at the level of the width of the chest and back or a little lower (solid lines ).
For dresses sleeveless a-line shoulder sections of the back and front lengthen by 3-4 cm With a significant lengthening of the lines of shoulder put your curves front and back, connecting them along the lines of the shoulder sections, and draw a new smooth line of the openings (figure 132). Change, the lower part of the armhole, as shown in figure 130.