For the manufacture of the most beautifully and correctly vypolnennykh elements lambrequin (Smad, Smad asymmetrical, parecido, asymmetric parecido, Smad transition in de ruff) when you cut do not use the warp yarn or the weft, and the direction of the thread on the bias, i.e. at a 45° angle, as an oblique direction of fabric when hand laying gives a soft draped pleats, allowing you to achieve the most delicate part of the pelmet.

It is also possible to manufacture Smad, parecido, etc. on the warp threads. This cut is applied in the case of large dimensions, in the presence of a figure, not allowing it to turn over (stripe, pattern, monogram, etc.), with a small presence of tissue during mechanical processing of parts (i.e. skladyvaetsja not by hand, and is going on the odds mounting tape).

For the most accurate build of Smad, parecido, etc. need to measure band weighting or other improvised material value 4.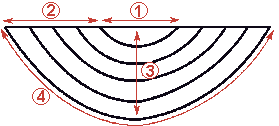 1 - mid Smad
2 - shoulder Smad
3 - the depth of the Smad
4 - the value of the lower of the SAG
On primerochnoi the Board sets the sizes in finished form and tape measure weighting Smad from the beginning to the end, given the depth of the details, the bottom line of the SAG, then measure the tape measure this value.

For the correctness and proportionality of making the details count the size of the middle and shoulder of the developed model

Example: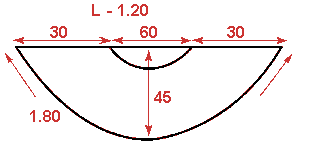 30 - 10 = 20 : 4 = 5 cm - the distance between the folds
10 cm - the value of the last folds
120 - (30 + 30) = 60 sm - mid
shoulders
60 : 2 = 30 cm - 1/2 mid
L lower the SAG - 1,80 1/2 = 90