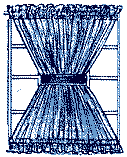 This is one of interesting design options window or doorway. This model will perfectly complement a series of small Windows of the winter garden, veranda or even a glass door cupboard.
Easy to assemble with the top and bottom drawstring, pull curtains on small round rods (rods) or strings, strengthening to 2 - 5 cm from the bottom and top edge of the door or window opening.
In the middle of the blinds pull together decorative elements - bows, ribbons, cords; decorated with bouquets of flowers.