1. BOOTS ON TWO SPOKES
Crochet boots needed the spokes with fishing line. Are finished product stocking and garter viscous.
All rows facial. Knit plain or colored threads. On the spokes, dial 45 loops (or any other number depending on the size) and knit.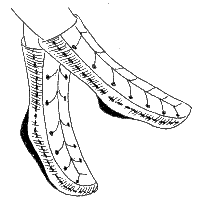 Figure 160. The appearance of the boots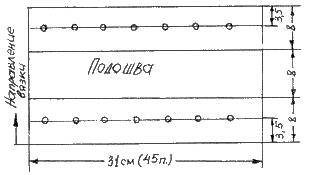 Figure 161. Pattern boots
1-8 rows - garter viscous;
9th row - 3 facial, 2 together for the front, 1 yo, etc. until end of row (this row will form a hole of the cord);
10, 11, 12 th rows - facial hinge;
13th row: 1 purl, 1 to remove (thread before the loop) etc. to end of row (tying this series, thread tear off);
14th row- knit slide along the wire to the opposite end of the knitting needles and knit: 1 to remove (thread before the loop), purl 1, etc. until the end of the series (loop taken in the previous row, purl promazyvaetsya);
15th row- purl loops;
16th row- face loops;
17th row and then 8 cm knit facial loops, until the sole. Then the knitting is repeated in reverse order, starting with the 16th row.
After work, tight to pull one of the side parts of the fabrics ("toe") and sew. Then twist the cord and thread it into the hole.
2. SLIPPERS ON 2 SPOKES
Dial on the spokes 28 of the hinges (15 cm) and knit from cotton yarn 2 support of a number of facial loops. Truncate the temporary thread and note with both edges of the knitting 10-e loop. Then, after that, are finished woolen thread, all rows facial hinge. Marked loops on the underside of the leaf vivasyan reverse loops, and on the front side of the front. They are the dividing lines between the soles and side edges of the Slippers. Linking 10 cm, add one loop near the dividing lines on the sides of the soles are finished 9-11 and then see After that tunable pattern with garter knit in "gum 1x1". Linking 4 cm, breakages thread, odevaem it in the needle and stitched the loops of the last row. Tight contractible. The same thread stitch the third fabric, grabbing the edge of the loop. Next, remove the cotton thread. Loops remain open. Average 8 loops stitched tight contractible. Extreme 10 stitch loops knit stitch.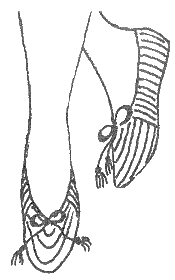 Figure 162. Appearance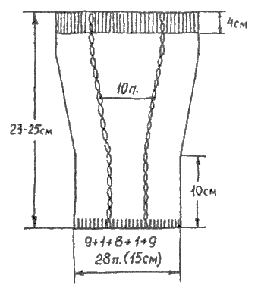 Figure 163. Pattern
3. USEFUL TIPS
To get the same product in a pair of Slippers and boots, knit product of two tangles (see lesson 7).
Slippers can be linked from the remnants of yarn, Viveza mysyk Slippers a coat of a different color.