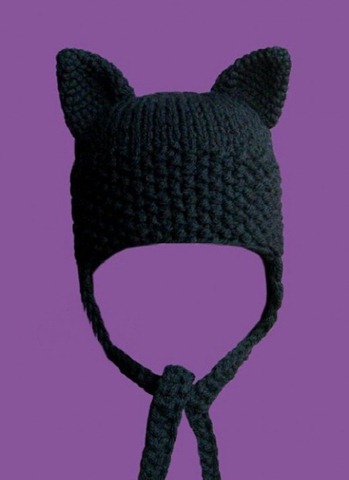 Most women are engaged in this wonderful hobby for some this activity is work. It is believed that makes the most of knitting is the knitting of the scarf, and in the second place to be the cap. As for knitting hats with ears that work can be done in several ways. First, the hat can be linked as knitting and crochet, whatever you like. On the cap you can do different patterns. Ears can be of different sizes and shapes.
Knitting:
You should start from the top and move down, the work is that along the line you need to add loops. First recruited six eyelets, basic, score they need on straight needles, then from each of the main loops on both sides add one loop to the desired size, on the head. And only after that, knitting without adding loops to obtain the required depth of cap.
To find out the head circumference you need to measure from lug to lug, and the distance center to close. Then, with the left and right sides of the loops that are closed need to remove the additional spokes of the number of loops that you need for the lugs, and the remaining loops close. Sew hat back, and ears to dobesilate separately. You need to pinpoint the place where ears would be. If you need a baby hat with ears, ears can be done in the form of jewelry, it will be original. The tassels, the ears of animals - basically, these ears are knit separately and then sewn to the cap. For such products you need to use a pattern to avoid inaccuracies. These lugs must have some form otherwise the form will not be as it should. To this end, each lug have to do two parts, back and front, then they will get the desired shape. To make the stability between the parts the ears, you can put sintepon.
Ears can be linked and a hook, as was said above, there are several methods to add columns. First - always on the first column to make more loops. Add loops to the point, while the circumference of the hat will not be identical with the size of head circumference. The second loop is added above the column. Caps can be knit:
- a cap with ear-flaps;
- from the pattern, which is the main;
ears which can be fastened with a button or snake, and which can be folded;
ears of motive.
Knitted things are the most practical clothing for any age from the very young to people in adulthood. Even some famous fashion designers make a collection from knit too directly from hats with ears, it is not only warm, nice and comfortable, but also trendy thing.