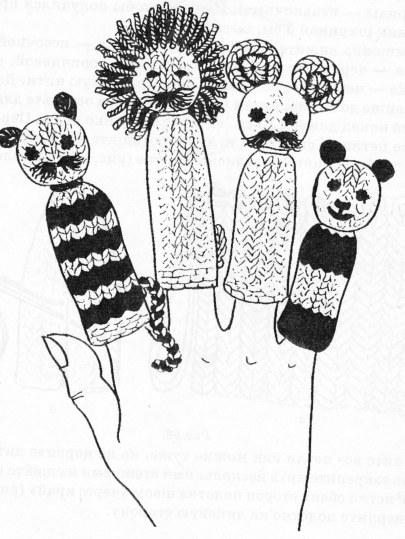 For work prepare: small balls of wool or synthetic yarn of medium thickness grey, white, black, brown, beige and sand colors; spokes and a hook ; a needle with large eye ; scissors ; cotton wool.
Knitting start with the torso, it is the same for all animals, just a different color.
Dial on two spindles 15 loops, tie 4 rows of garter viscous (all rows facial hinge) and about 30 rows hosiery knitting (odd series - facial loops, even rows purl). Need to get a rectangle 5 cm wide, 7 cm high.
Mouse grey knit thread, lion, sand, tiger cub - alternate in 2 rows sand, and brown bear - alternate 6 rows of black and white threads. Dawasa torso to the end of the loop do not cover, and leave for stitching the end of a length of 10 cm, pass it into the eye of a needle. Move all the loops from the needles on the needle and drag the needle through the loops so that they were all on a string (figure 96). Then pull all the loops tight as you can, but don't tear the thread. Now secure the thread with a few stitches and sew the edge loops on both sides of the canvas seam "over the edge" (figure 96). Remove the cloth on the front side.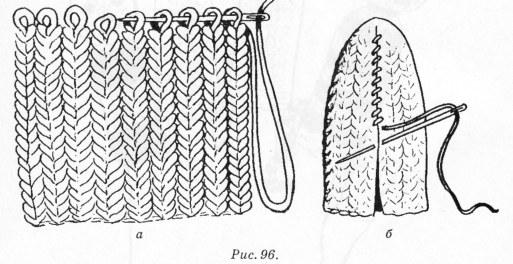 For heads made of dense cotton wool ball with a diameter of 3 cm, put it at the end of the body and a few tightly tie a thread (figure 97).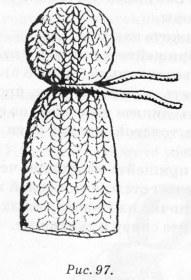 Now make a muzzle and a tail - they will differ from each other.