First, make a pattern in full size in the drawing (figure 63). Prepare the pillowcase in the background, which will be appliqued. One instance of the pattern is cut on elements: head, torso, hand, flower, eye, the other will serve to control the correct positioning of the cut out parts.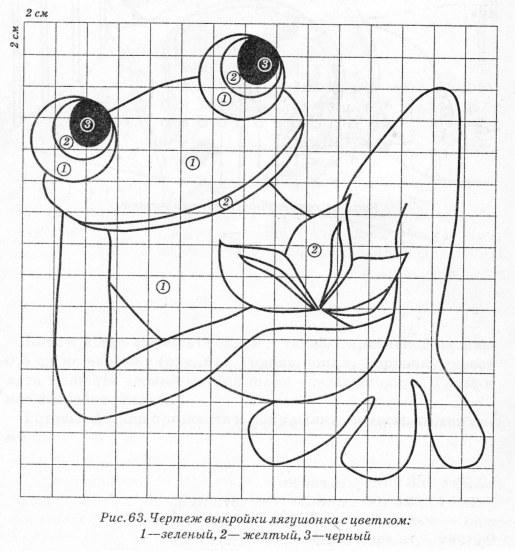 The cut portion put on fabric appliques common thread, attach with pins and cut along the contour of the paper pattern, making the addition to the seams at 0.5 cm Cut elements lay in the background in the right places, Refine the form, the compatibility of the parts. Loose fabric and the knit can glue the edges around the outline with white glue. All cut parts baste to the background. Now put them in the bobbin thread stitches small and frequent, bending 0, 5 cm on the seam.
Eyes can crochet 2 round columns without nakida yellow and black thread and sew slanted stitches. Mouth — yellow thread chain loops and sew wrong side up.
For flower tie crochet 3 white petal according to the diagram (figure 64). Veins embroider black thread, seam "back needle.