You'll need
Satin fabric ivory sizes 35 X 60 cm, thread floss in 6 plies of white, ivory and pearl grey colors; needles for embroidery and beading, pearl beading, lace width 4 cm, length 60 cm; diagram of the pattern in full size; embroidery; tracing paper; transfer paper; pencil; sintepon.
Progress
Fold satin fabric in half and cut from it 2 heart. On tracing paper set the pattern.
On the front side of one part will place carbon paper. On top, place a tracing paper and trace all the lines with a lead pencil. Remove the tracing paper and carbon paper. The drawing should be exactly in the middle of the pillow. The fabric tension in the Hoop.
The work will be used bilateral surface, glideway roller, stalk stitch, knots.
First do the large flowers. Petals embroider thread 3-add the ivory double-sided satin stitch. Start embroidering with the center of the flower, making stitches across the petals and close to each other. Leaves complete by gladium roller. Withdraw the needle at the base of the leaf and make a stitch towards the middle. Go back through the wrong side in the beginning and near the 1st stitch lay 2nd. Thus complete one half of the leaf. The second half start to sew off the tip from the middle to the edge.
Small leaves and flowers embroider zhemchuzhnoe thread in 3 addition a bilateral surface. The strands run stalked white suture thread in 3 additions. Bring the needle with the working thread on the front side in the beginning of the stem and make a diagonal stitch on the contour. Paving stitch on the reverse side in the opposite direction, back there in the middle of the 1st stitch and pull the 2nd stitch. Put the remaining stitches the same way. They should all be of equal length.
A pearl-gray thread perform the knots in the marked places. Attach yarn on the wrong side, bring the needle with the working thread on the front side. Keep the needle parallel to the fabric. Around it 2 or 3 times obvate working thread from left to right. Puncture the tissue near the site of exit of the yarn and pull the working thread on the wrong side, at the same time with the left hand pushing the knots of tissue and tightening them.
A needle for beads and white thread sew in the center of the flowers a few beads. 1 bead sew on the knots.
Iron the finished embroidery from the wrong side through a damp cloth. Fold the 2 pieces right sides inside and sew them, leaving a small section open for turning. Allowances cut and remove the pillowcase on the front side. Fill the product with synthetic padding and sew the hole hidden seam. Then, priborika, pin the lace to the pillow, starting at the top, and sew it in (Fig. 65).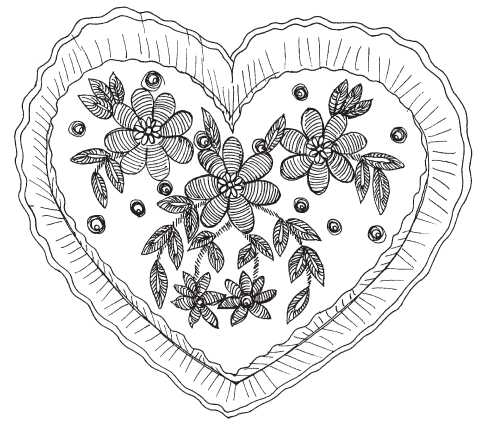 Figure 65. Wedding pillow