You'll need
Harsh cloth length 70 cm, width 50 cm, thread floss in 4 addition orange-yellow, dark blue, light blue, dark blue, grey, pearl grey, light steel, white, blue-white, greenish-turquoise, brown, light brown, black colors; scissors; embroidery needle; diagram of the pattern in full size; embroidery; tracing paper; transfer paper; pencil.
Progress
Transfer the pattern first on tracing paper, then on the front side of the fabric using carbon paper and a simple pencil. Harsh the leaf, tuck in the Hoop.
All embroidery is made stitch and seam "forward needle" and "back needle".
In the first place lay all the contour lines of simple stitches. To sew start with the sails of the frigate. Embroider the sails vertical stitches in white and green-turquoise colors. The main part of the complete facial surface with threads of white in 4 additions. The right side of the sail embroider greenish-turquoise thread. Below the surface turned out neat, the stitches of the 1st row route is slightly longer than the stitches of the 2nd row. Start exactly with the contour lines. The stitches of the 2nd row begins between the stitches of the 1st row.
Rei make a short slanting stitches with threads of brown in 4 addition. Mast also embroider short stitches slant the same color. All the ropes, make the seam "back needle" brown thread. What lay on the contour 2 is a simple stitch, 1 on the front side, the other on the reverse. Make the front side of the stitch in the opposite direction, sticking the needle at the end of the 1st stitch. On the reverse side put forward stitch 2 times longer than on the front. With this technique, follow all the ropes.
The hull embroider brown and light brown thread. Shadow emphasize stitches in black. The Central part of the housing embroider straight stitches. The nose of the ship fill oblique surface. At the rear of the vehicle, use direct and oblique stitches. The deck complete the slanted stitches.
On the nose, optionally, you can specify slanted stitches a human figure and black thread in 4 additions. Pennant and flag embroider oblique surface. Pennant run in the orange and yellow colours. Flag embroider blue-white colors in the form of intersecting lines.
The main part of the sea, make straight stitches in dark blue and blue yarn in 4 additions. Wave underline in dark blue, and burunduki — and-white and pearl grey.
Ahead of the ship embroider 2 dolphins slanted stitches grey tones. Eyes emphasize a few stitches in black.
The sky complete the facial surface pearl grey thread, embroider cloud white color oblique surface and the contours of the clouds emphasize light steel thread 2 addition (Fig. 76).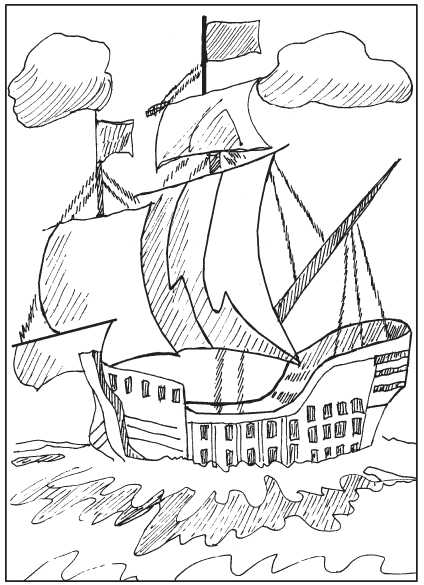 Figure 76. The Painting "Frigate"