In class the children continue to practice knitting fabric columns without nakida on the principle of "snails" in reading the schema. Work on perception.
Material.
A sample and diagram of crochet hat; yarn knitting hooks.
Preparation for work.
Talk with children about clothing, shoes, hats. Swipe didactic games, making the color perception.
The lesson
The kids came back the doll that brought her hat, she is very like, but not the right color for her clothes, so the doll asks the children to associate her new hat of a different color.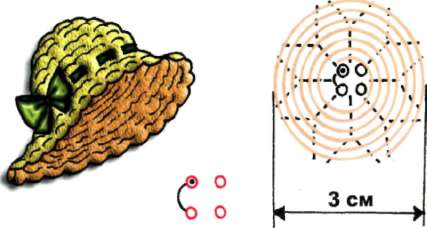 Ask the children:
• Think and answer:
• what colour it is necessary to take the yarn that she beautifully combined with clothing dolls;
• the hat is similar to the tissue (circular in shape);
• what new element of knitting, the children learned in the previous lesson (columns without nakida);
• as it is represented on the diagram (dash).
• To recall how to perform a column without nakida.
• To consider the scheme of knitting hats and answer:
• how much air loops in the chain closed into a ring (4 stitches);
• what kind of loop it is necessary to link to close the chain in the ring (polytypic);
• as it is indicated in the diagram (arc).
• Tie a chain of 4 loops and snap her polytypical in the ring.
• Pay attention to the diagram, note that the knitting is not on the circles, and the principle of "snails" loops, the column without nakida; in addition, there is the addition of knitting through 1 loop: 1st loop 1 time, and performed 1 column without nakida in the 2nd loop included 2 times (by 1 column without nakida, re-enter in the same loop and perform another 1 column without nakida), etc.
• To bind the circle with a diameter of 3 -4 cm
• At the edge of the circle, you can knit lace and chain 7 loops, the end of which is attached to the 3-th round of the loop from the beginning crochet chain, or decorate the hat, sew beads, ribbon and yarn.
In the course of analysis to thank the children, put the cap back on the doll to see what was the doll dressed.