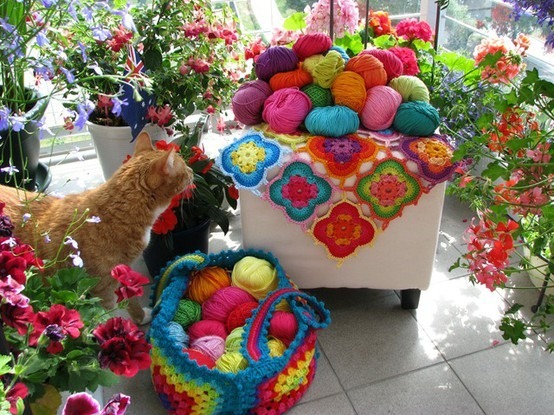 To date, very fashionable and exclusive to decorate your home with knitted stuff. It will make your room originality. Knitted accessories can be different as enough the imagination of the masters. It can be various knitted toys that will blend in great in the nursery, napkin, hand made, decorate your Desk, also can be table cloth made of yarn, pillows for decoration, but would it not be beautiful, these accessories is no surprise! Today is very popular to wear in knitting various interior design items: lamps, furniture, dishes, boxes, chairs, etc.
There are many stores today where you can purchase various things from yarn. Covers mugs, vases, bottles, photo frames. To make your room incredibly cozy and elegant, you can decorate your beautiful bed linen associated with lace.
As for the knitted accessories for women's wardrobe, these include even the smallest details that attract their attention and their owner is at the center of attention. Even the most well-known designers are very great attention to the accessories. Any thing with attracting different circuits will look quite differently, in new ways. Very good detail for your garment will be knitted belt, because it can be worn as someone is comfortable in the waist, on the thighs, under the Breasts. If the belt is properly fit, it is great to highlight your strengths and hide figure flaws. Due to the wide belt you can visually reduce the waist, and if you wear a belt on your hips and if it is a big buckle, it will increase your hips for the girls with a small bust, you will help the zone which is fastened under the chest, it will make your chest more expressive and attractive.
Another important item for every woman is a bag, and knitted bag even better. This year is very fashionable handbags of large volumes. In fact they look very elegant, especially if you in tight clothing. It is better to choose a bag of bright yarn.
What can you say about knitted gloves? Knitted gloves are not only outerwear, but also makes a woman mysterious. Special men's attention is drawn to the gloves above the elbows, it is very intriguing.
But the most favorite accessory for every woman are jewelry, knitted jewelry look very gently. This one does not argue, after all, jewelry give your wardrobe a festive look.