Pearl seam
This is one of the most ancient stitches. It operates from the bottom up. It may be direct or oblique, similar to string of pearls, hence its name.
Pull the needle with the working thread on the front side and run a straight stitch up, taking a few strands. Then bring the needle again to the front side on the left side of the 1st stitch, pass the needle under the thread down and from left to right and tighten the knot. Next time, withdraw the needle from the right side of the Central stitch and the same thread under the thread. We will continue to execute the stitches the same way as the first. Stitches place themselves or right, or diagonally depending on the weld (Fig. 23).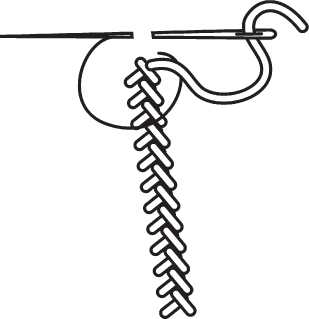 Figure 23. Pearl seam
If the ornament rhythmically repeated several times, it is called rapport.
Basket stitch
It resembles a pigtail. It can be performed on different tissues and different thickness of thread. The stitches are fitted very tightly, or, conversely, sparsely.
Pull the needle on the front side and follow the 1st stitch from left to right, capturing
3-4 threads of the fabric. Make the 2nd stitch next to 1st right to left. It needs to be 2 times longer than 1st. Withdraw the needle to the front side at the point of the 1st stitch, having it under the fabric and pulling in the middle of the 1st stitch on the left side. Make the 3rd stitch from left to right, taking 6-8 threads of the fabric. The remaining stitches will follow as well (Fig. 24).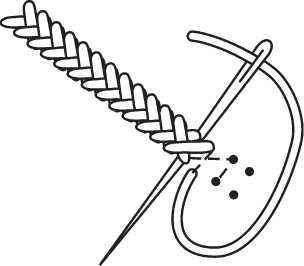 Figure 24. Basket stitch