One of the important conditions for qualitative performance of work is the organization of the workplace. When you work with a straw does not require any special equipment. Key requirements: good lighting, a comfortable steady Desk and chair, adequate number of shelves and cabinets for storage of materials and finished products.
The application requires several types of tools.
To perform the necessary sketches, graph paper, drawing paper, copy paper, ruler and a right triangle, pencils, Laundry service, pushpin. To prepare straw in curvilinear layers of an application need a thin plain paper.
The main tools in geometric appliques are (photo 34): knife, pot, sharpened at an angle of 45°; scalpel; brushes; jar with varnish; bath with a sponge soaked in water; pencil; ruler; square; compass; surface gauge. For curved application additionally required a small nail scissors with smooth blades; round and oval cutting with diameters from 2 to 20 mm; a metal or plastic device for splitting straw into strips.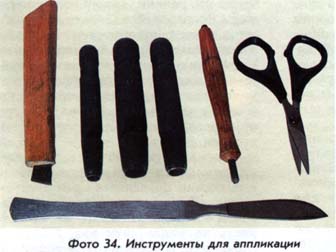 Ancillary tools include: cleance, utensils for cooking, the soil, the capacity for dyeing and bleaching straws, abrasive pads, abrasive paper No. 0-2, a grindstone for sharpening tools, goods for the bonding or clamp.
Tools and accessories for the application have to be properly chosen, well-honed. The sharper the tools, the better and easier the work will be carried more accurately translated figure.
A large pair of scissors or a penknife are necessary for cleaning the straw and making a straw ribbon.
You must also have perhydrol 15 -, or 32%, dyes, stains, varnishes, gouache paint, fiberboard, burlap, plywood for the base panels.
For weaving you will need (photo 35):
a large pair of scissors to clean the straw, nail clippers with straight blades, set of sewing needles, hardwood and glued cardboard patterns for weaving three-dimensional forms;
thread cotton No. 10; thread reinforced cotton or light-coloured No. 40, fishing line 0.18— 0.2 mm;
the wire is copper or aluminum with a diameter of 1.5—3 mm for frames;
PVA glue "Moment" AGO to otkleivanie elements of weaving and fixing Solomin in the braids;
wooden stick or a rolling pin for rolling of flat braided;
press for drying flat wicker.