Dried parsley is a spice, available to everyone. Razmerchik it, you will be able to make transparent soap a pleasant shade of green. However, small particles and tend to float to the surface of the base. To avoid this, it is necessary to constantly stir the hot base until it slightly thickens (watch the soap "the Snowstorm"), or a pre-pour the crushed parsley any hot fat oil and leave for two days. During this time there will be a partial maceration: the enrichment of the oil components of parsley. Particles spices will be "obedient", it will swell and get heavier. To work with such Supplement is pure pleasure!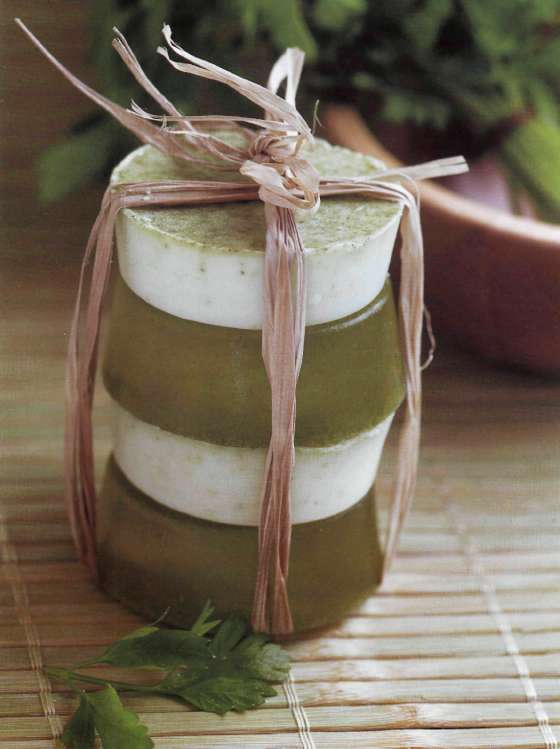 Main ingredients:
• 100 g of white and transparent soap base
• 1chaynaya spoon of minced parsley infused oil fatty
• 4 drops of essential oils of rosemary and pine
1. Melt in two containers as a transparent and white base. Refrigerate for a few minutes. Add to each the same amount of infused oil with chopped parsley. Then white base drop rosemary essential oil, and in transparent pine.
2. While stirring, pour the hot basis of two pairs of identical circular shapes. When the soap has cooled, take it out. Alternating in color, put soap on each other and tying with raffia fibers natural color. The gift is ready!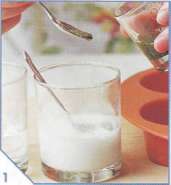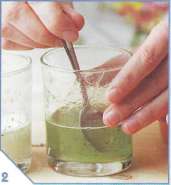 The Council
White soap looks even more interesting when its surface visible particles of chopped parsley. With a nail make a hole in the center of each piece of soap. Route the cable through the fiber of raffia and tie the ends of cinnamon sticks.