Another soap "citrus" theme. As the molds to manufacture it will fit different size plastic cups, aluminum cans or pieces of round pipes. The aroma of the soap will give the essential oils of sweet orange and grapefruit.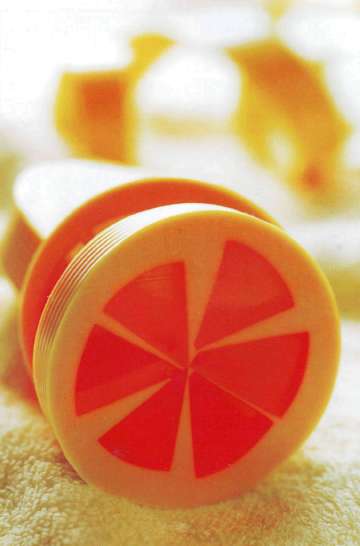 Main ingredients:
• 100 g of white and transparent soap base
• 5 drops of essential oils of sweet orange and grapefruit
• 5 drops of orange liquid dye
• 1/2 teaspoon of sea buckthorn oil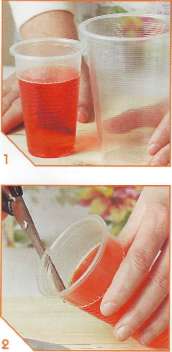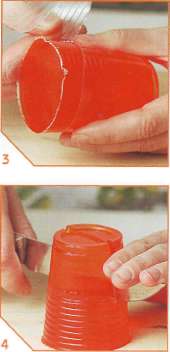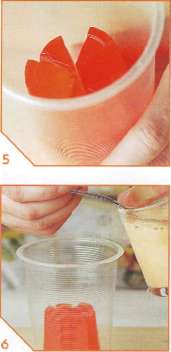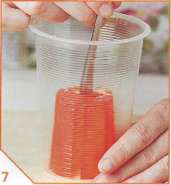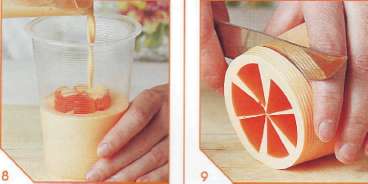 1. Melt the transparent base give it a vibrant orange color and citrus flavor with a suitable liquid dye and essential oils. Thoroughly mix the ingredients and pour the mixture into a small plastic Cup.
2. When the mixture hardens, cut the glass and removing the resulting cylinder.
3. Remove the plastic Cup of chips, then you do not damage the soap.
4. With a knife cut the cylinder in the same sector. Smoother than they are, the better the end result.
5. Place the sector in a big glass the same distance from each other.
6. Melt the white base, paint it lightly with sea buckthorn oil, having a colour close to the colour of the peel. Add citrus essential oil. Then pour a few spoonfuls of the mixture in the glass sector, to barely cover the bottom and lock them position. If you immediately pour the entire mixture, the sector may fall or disperse.
7. When the first layer has cooled, fix the position of the sectors and make the last adjustments.
8. Fill the glass the rest of the mixture.
9. Keep in mind - in the middle of this soap hardens more slowly than the edges, so the hardening time will take longer. Having cut the glass, remove the soap and cut it into slices. Experiment with color, number and size of sectors, sizes of glasses and scents of the basics.