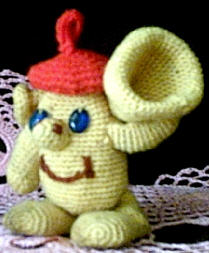 You will need
: 50 g of the bright half-woolen yarn of medium thickness; some red yarn for beret, buttons for eyes red embroidery floss, cardboard and wire for the frame; hook № 1,5. Basic binding - columns without nakida.
Head-torso - one detail. Knit it top-down. Towards the bottom the volume of work should increase slightly. Before the end of the work lightly stuff the trunk.
Tie two ears (big and small), hands and feet. The sole of the foot insert for stability a cardboard frame. Make two wire frame for the arms and legs, and thread them through the head and torso. At the ends of the frame make small rings to ensure that it is not pierced knitted arms and legs - stuff them and sew.
Sew the nose, embroider a mouth, freckles, eyebrows. Sew the eye buttons or beads on the head of the tie takes from a bright yarn.