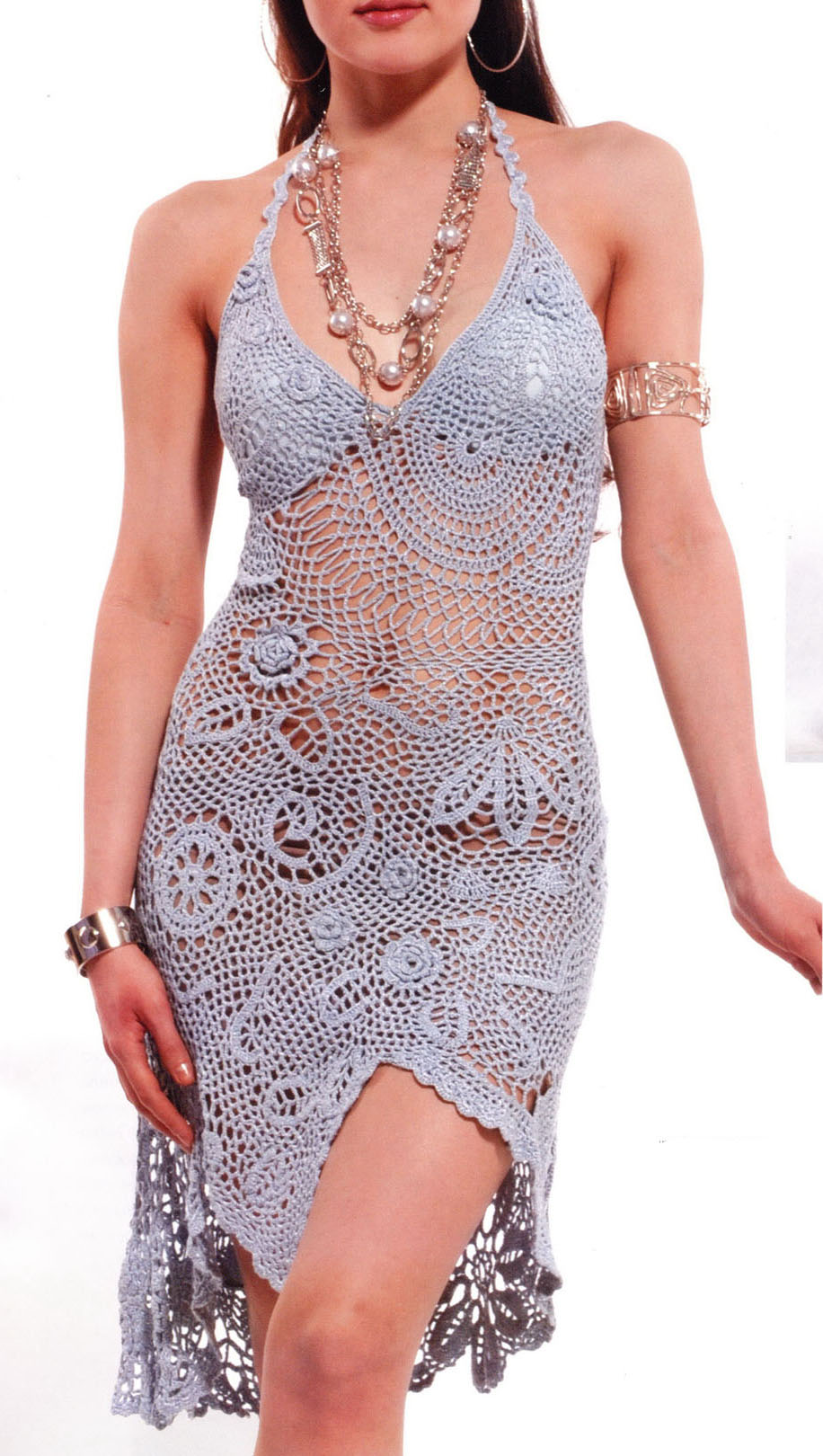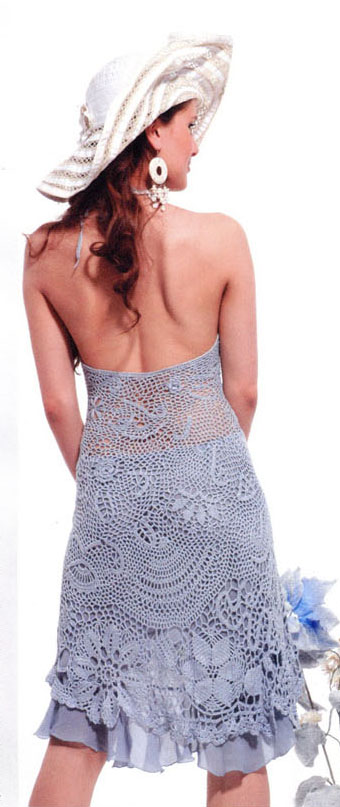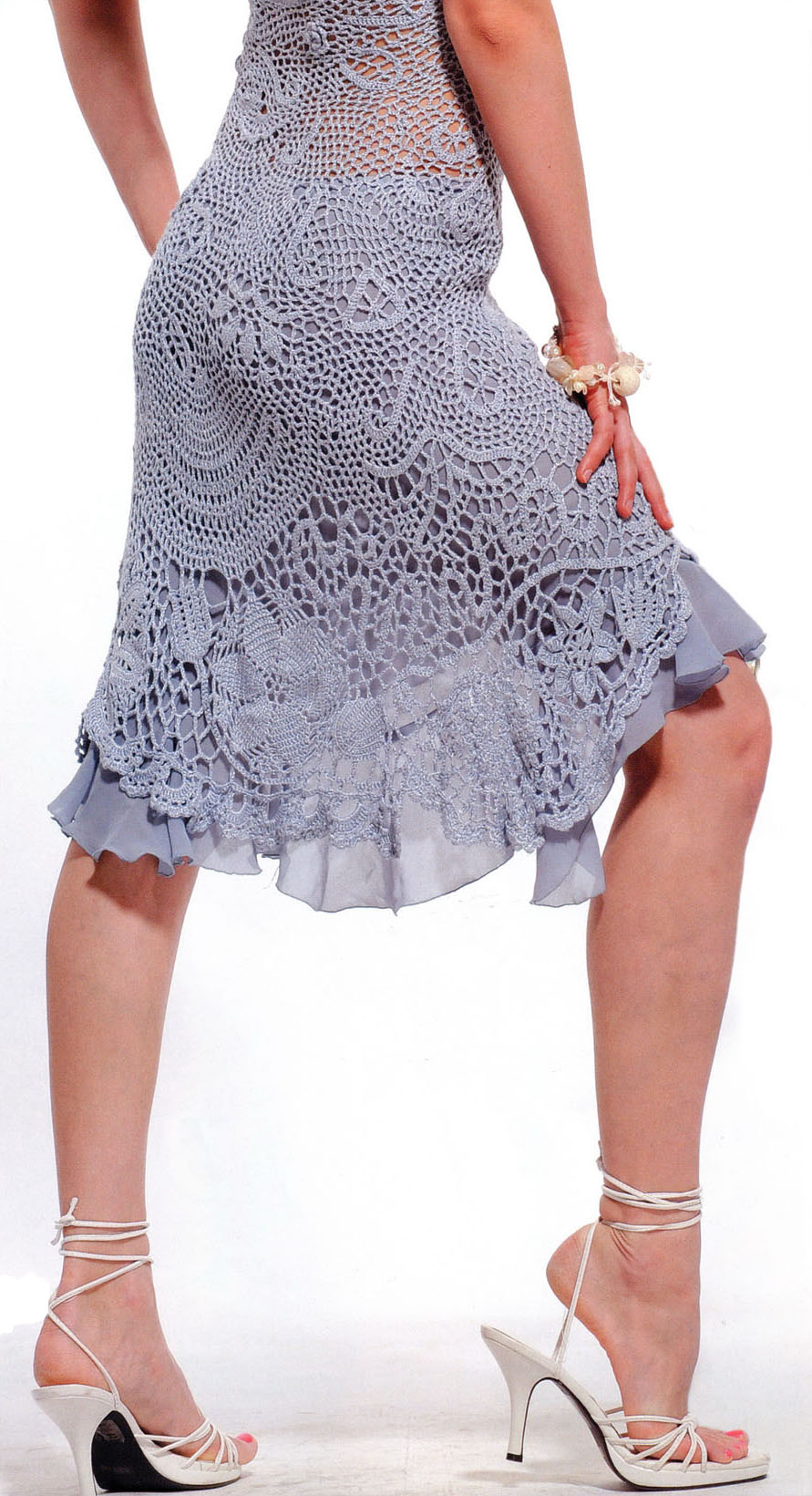 Author L. Sinelnikova
Model knit sundress crochet made in an arbitrary combination technique of knitting with the use of elements creates the look of embroidery "Richelieu" (author's development), briggsdale lace techniques, partial knitting, of coupling guipure.
Materials for knitting
3 skeins of yarn (50% cotton, 50% viscose, 100g/450m) Hook № 1,5-1,75
Knitting crochet sundress
To copy this model it is impossible – in the end you will receive your unique thing.
To start, the pattern parts are made of thick fabric, baste, adjust the figure, making the necessary changes. You can work the pattern with the United seams, so not had to adjust the location of elements on the side seams or make the Assembly on the mannequin. Work over the top knit sundress will require You much effort and care as improvising on compiling lace linen need to constantly make sure that the canvas doesn't faldio and follow the contours of the pattern. At the bottom of the sundress just the opposite – the tails, frills, jagged edge and asymmetry are welcome are the elements that will add sophisticated luxury and chic knitted crochet sundress.
In the original model bottom are large floral motifs, which fades into a small, surrounded, as though dissolved by the grid. Decorative figure models created delicate designs are constructed based on edges of the PT/n, a variety of background grids and sirloin patterns. Examples of this knit look on diagrams 10B-10E. Consider the patterns made on the basis of expertise. In diagram 10 b shows how to crochet openwork leaves, which you can use to create a mini – composition rose with a sprig of (10A). The sequence of the knitting of the edges, see figure 10. Another version of the crochet openwork leaf see diagram 10 V. a Beautiful addition to the composition will become branches - swirls 10g. The technique of filling the inner space, see diagram 10D. For forming a beautiful contour of leaf on the bottom of the dress use snakes – 10E.
Attention! The above proposed schemes is not an exact copy, but only shows the principle of knitting. Doing the work, we recommend you to improvise, varying the number, size, fashion knitting openwork leaves, length and shape of the swirls, snakes... the Finished product and tie at the bottom of any scalloped lace. Straps run briggsae braid or piping.