Special plastic forms allow you to only flat soap, one side of which the front is decorated with relief and the other smooth. To produce large soap, beautiful from all sides, use a volume form. Then your masterpiece will be indistinguishable from the factory of soap.
Main ingredients:
• 150 grams white soap base
• 3 drops blue liquid dye
• 1 teaspoon oil of peach pits
• 3 drops of essential oils of Basil, ginger, grapefruit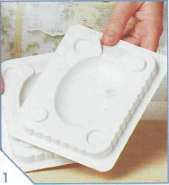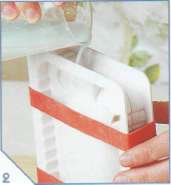 1. The bulk form for casting soap consists of two halves, which are well fastened to each other with the projections at the corners and optional fixed tight rubber bands. In the top of the form there is a special slot to fill the bases. When building forms, ensure that they match.
2. Melt the white base, add in i lee blue dye, essential oil and peach seed oil. Mix thoroughly and pour into the form. If you did everything correctly, the mixture won't flow out. Keep in mind that the soap in such a tightly closed cools down longer than usual.