A great idea is to decorate the lids of glass jars such funny berries from felted wool!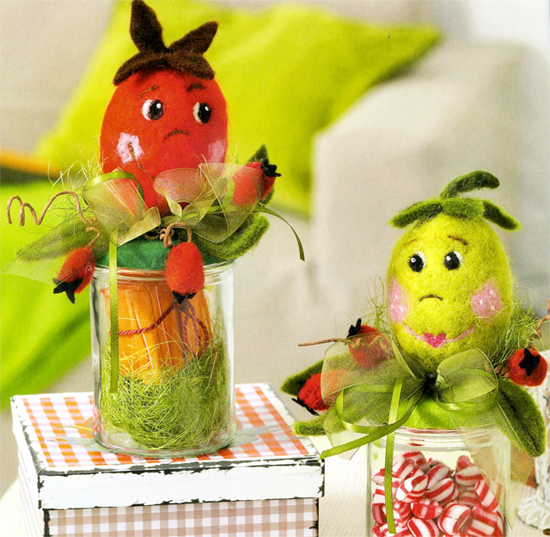 Materials:
light green, green and black felt for craft 1 mm thick
white, pink, hot pink, red, dark red, light green, brown and black wool for felting
green thread for a wick with a length of 6 cm
olive and brown flap fleece size 10 x 10 cm
2 glass jars with lids (height 11 cm, diameter 8 cm)
2 eggs of Styrofoam with a length of 8 cm
50 cm light green lace chiffon a width of 2 mm
25 cm light green satin ribbon 3 mm width
olive hemp
thin brown binding wire
tracing
copy paper
medium and thick needle felting
felt and foam underlay
gun with hot glue
clippers
cardboard
dressmaker pins
Scotch
Execution:

1. Styrofoam eggs are put on the foam backing and wrap the wool felting: one egg is red and dark red, the second egg is light green. Using a special needle for felting (equipped with return hooks) fasten the hair on the eggs. Re-injected the needle into the wool, and add a new layer (step 1). 2. From a small amount of white wool, form a ball with your fingers, then put it on his head and with a needle salaita from his eyes. Needle injected into the ball until the desired size of the eye. Form the second eye. Then add some black wool and make a pupil. Eyebrows, nose and mouth make a few brown fibers of wool, slightly twist them between your fingers, and then saleite with a needle. Eyebrows, mouth and nose put on head, insert the needle in the top and attach details to the head. From bright pink wool manufacture for large berries rose hips mouth in the shape of a heart. Some pink fur, put on the head and saleite cheeks, fix a special needle (step 2).

3. Print the leaf template, place onto cardboard and cut out. Templates apply on the selected flap fleece, secure with tape or pins and cut out. For each jar you will need 4 leaves. From a small amount of red wool egg shape, put it on a foam pad with a needle salaita in the berry of rose hips with a length of about 3.5 cm Mikulecky berries cut from black felt, in accordance with the motif and glue to the top of the berries. On the other end glue a piece of wire in paper braid with a length of about 12 cm For one banks make 3-4 berries. According to the photo attach with felting to the head leaves and stem of the wick (step 3). 4. Of light green and green felt cut out circles with a diameter of about 11 cm and glue them to the lid and the pot. Cut away the excess felt along the contour of the jars and lids. Cut the leaves lay on the lid and glue. Between them put small berries rose hips, stems wrapped around a pencil in a spiral. From chiffon and satin ribbons make bows and tie them with wire. The bow position on the track and stick (step 4).