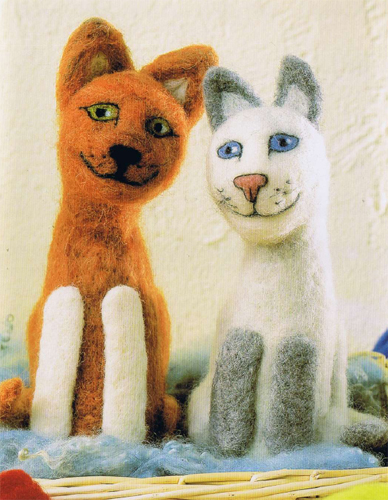 Usually all women like cats, but not everyone can afford to keep their homes. To have a gentle beauty and other method - felting her wool. This method is called feliziani. Such a beast is not ashamed to give, but the cats look better in a pair.
Materials for big cats:
white carding tape - 110 g,
chenille wire - 30 cm
rusty-brown wool - 20 g,
black and light green wool a small amount.
Materials for small cats:
white carding tape - 110 g,
chenille wire - 26 cm
grey wool - 10 g,
black, pink and light blue thread - small amount.
Cats consist of the following primary forms: head, body (torso), ears, hind feet, front paws and tail.
Execution:
1. Matted each of the primary forms of carding sliver white color and carefully connect additional strands of wool.
2. "Painting cats". The big cat cover thin strands of wool rusty brown, the front legs and Kreisky ears small cat with fur of grey color. After the front legs profilseite to the cat's body, like the pictures. Keep the edges, it will allow the feet to remain three-dimensional. Hind legs are bent at the joint at 90 degrees forward, a sufficiently large layer of colored wool also attach to the body of a cat.
3. To cut the tails 15 and 13 cm chenille wire. Each of the segments tightly wrap coat in white or other colors and apply gently penetrating needle. For white tail, add a tip of gray. Using punch needle, fasten one end of the tail on the back between the legs, the other end smoothly bend around the trunk and lay forward.
4. Very carefully need to make faces. Eyes, nose and mouth first filtrite in the form of grooves, and then decorate with colored wool. Eye go wool light blue or green, and the pupils make black with white highlights. The inner part of the ears decorated with a coat of white.