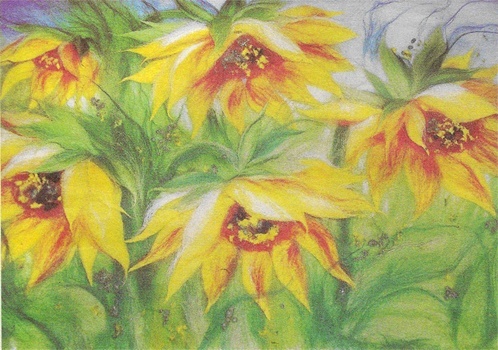 Have you been to field of sunflowers? The whole field of suns! The sensation of light, of summer, of joy. Try to transfer those feelings to the picture, using the technique of watercolor wool.
You will need:
materials
frame with glass size 40 x 30 cm
fleece 40 x 30 cm
color spun wool in white, blue, beige, brown, yellow, orange, Burgundy, black colors
green wool in two shades - light and dark
glue
tools
- tweezers, scissors.
The size of the substrate of cardboard removed from the frame, take rectangle of fabric. Attach to substrate using adhesive pencil is a "canvas" for the picture. "Write" a picture of the rear of the plans. Taking strips of wool thin, almost transparent strands, lay them on the background from top to bottom. Sky draw white and blue fur, then slowly go to the grass using light green wool.
Now start to lay out the petals, forming flowers. To do this, take the yellow wool. Pull thin strands out, cut them in equal parts, twist the ends, giving a pointed form to the petals. So put the right amount of flowers, forming a bouquet. Cut from a mixture of brown and green wool serdtsevinka the sunflowers and top with a little chopped yellow and black wool. To convey the beauty the flowers add more color. Take a thin slice Burgundy color and put it on the edge of the flower is will be a shadow. Twist thin strands and draw veins on the petals. Watercolor wool will require such qualities as diligence and accuracy, otherwise the edges of the elements will be oiled and the work will look sloppy.
From dark green wool to form the stems. Watania thin long hair, twisting a little with her, put in the right place. How do the leaves and place them at the base of sunflowers and a few on the stems. Insert a picture in a frame.