Knitted doily "snowflake", the cover on the stool.
Knitted napkin snowflake.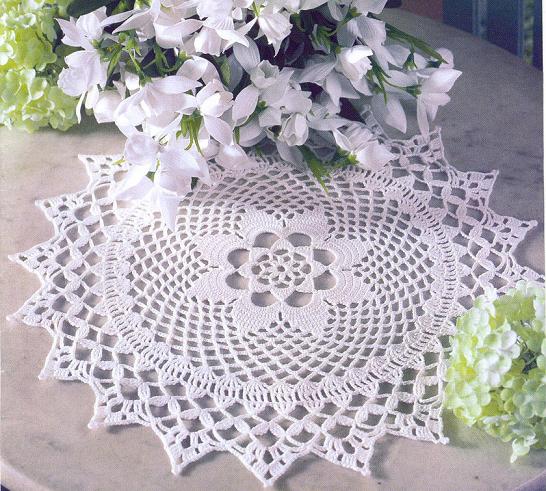 Knitted doily crochet snowflake. Snowflakes can be not only snow. Shall openwork napkin crocheted from threads.
You will need:
Skein of any color, you choose the color of the napkin. Composition: 100%, 200м50гр. other colors skeins of yarn, for example, blue, Golden and red yarn, in pieces each. Composition: 80% viscose and 20% polyester, 25gr. Hook № 1.5 Our snowflake is white with a blue border. And it consists of: an air loop, polostevichi without nakida, columns without nakida. Polostevichi and columns with nakida. Post polostevichi with double stitches. And also, polostevichi with triple stitches. Note: if all of the icons you agree to the bottom, they promazyvaetsya one basis.
Progress:
From the main yarn crochet recruited five air loops. Their polytypical close without nakida in the ring. 1,2,3,4,5,6 are finished, the rows, connecting.
Next knit 6 cloves of our snowflakes around the circle using any pattern rapport in a circle. Loop – column + polytypic double nakida, an air loop.
Now, take decorative thread of a different color. It knit 7th row, edging napkins. Leave about two feet of the working yarn. Provatas 7th row of the edging, just leave 10cm and decorative threads. The two strings bind in the loop – now, the cloth can be washed and hung on a hook for drying.
Fun cover for the stool.
We offer needle bind of the bright filaments warm cover for kitchen stools or high chairs. This case can be linked from the remnants of yarn with hook column without nakida. Need to knit around the circumference of the chair seat in four places, if the chair has corners add on seven stitches in each row. As soon as the size of the cover will coincide with the seat of the chair, are finished 4 series, this time already without adding loops, and then diminish 6 loops in a row. Knit three more times. The last row are finished, alternating columns without nakida with the air loops.
You got loops. Here it is necessary to put an ordinary rubber band. Tie this knot and tighten so that it is as tight as possible "sitting" on a stool. Case ready. Now it can be decorated to make the chair look not only beautiful, but also fun. For example, a high chair for the baby can be decorated with applique of your favorite cartoon. But kitchen stool can be embroidered cherries or olives.