Manufacturer of Christmas toys — a very exciting experience: it doesn't matter whether you do it for yourself or for a gift. A set of colorful stars looks great on the tree or on the window when they shimmer in the rays of the sun. The hole in the Central busine should be wide enough through which it was possible to pass all the ends of the wire. Make the star more simple, using less pieces of wire, or complicate, increasing their number.
MATERIALS
galvanized steel wire 0.8 mm diameter
Central bead with a wide hole
small beads
12 large beads (6 — same color and shape
6 — other)
6 conical beads
crystal pendant
TOOLS
clippers
pliers
Cut 12 pieces of wire at 30 cm Thread one of the pieces through the Central bead and bend it in half to bead is located on the bend. Loop the ends of the wire next to the bead to secure it. Do the same with the other pieces. Evenly all the ends of the wire around the Central beads.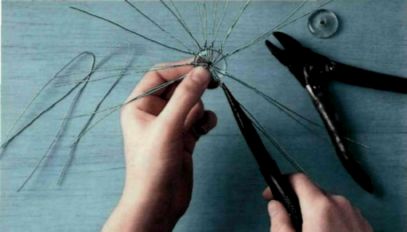 String a few small beads on both ends of each of the second folded double wires. Then string them on a large busine (all 6 beads must be the same). Below beads are not slipping, slightly spread them apart, the ends of each wire.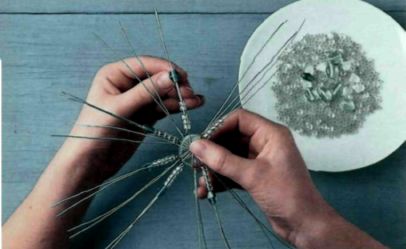 On both ends of the free lengths of wire put one of the 6 remaining large beads, and then spread the ends of the wire in the shape of the letter V.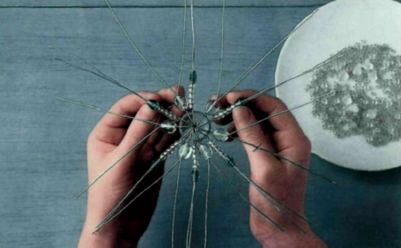 String beads on each end of each of the resulting letter V. When all the beads will be used, the pliers fold the wire end in the form of small loops and fold it at an angle of 45 degrees.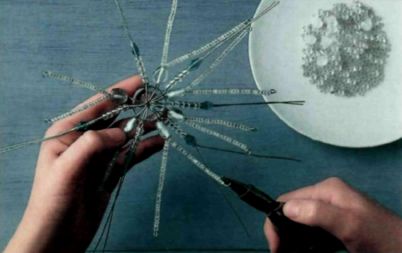 Fold the ends of each of the letter V so that they contact with the ends of adjacent letters to form rays of a star. String beads on the remaining double wire to fill the inner star points. If the double wire is too thick for the beads, cut off one end and tightly wrap it around a second to lock position. When you have finished stringing the beads, thread the wire through superimposed on each of the loops at the ends of the letter V (see photo).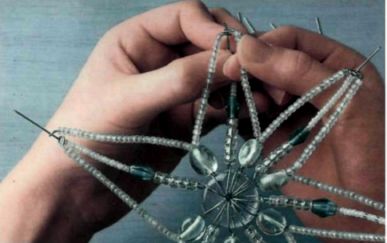 Wear conical beads on the ends of the wire coming out of the rays of the star, and fasten them with pliers making loops at the end of each wire. Hang a crystal pendant at the bottom and thread the ribbon through the loop on the upper beam for hanging the stars.