Butterfly is one of the most popular elements of the decor, which is often found on fabrics, clothing, Wallpaper. In this project, the butterfly is made of soft copper wire that you can bend with your fingers. Wear them as brooches or hair clips, attaching the appropriate accessories, or use as decorations for gift wrapping. Having mastered the method of manufacture, and complicate the task and make butterfly - brooch with an unusual combination of colors or a fantastic and original form.
MATERIALS
(one butterfly) 60 cm enameled wire copper colored beaded oblong bead for the body of round bead for the head universal adhesive
TOOLS
household pliers
Cut a piece of wire of 60 cm String on the wire beads to 2/z wire (about 40 cm was covered with beads. Slide the beads to the Central portion of the wire, then bend the two loops form the outer contour of the front wings (see photos).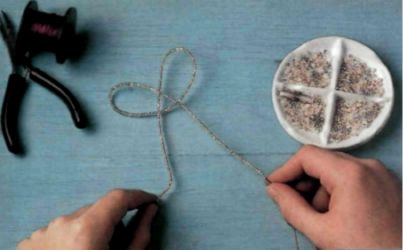 Bend the wire loops for the formation of the inner contours of the wings and then wrap both ends of wire around the base of the wings for their fastening. Fold two more loops to the second pair of wings and secure the wire around the Central point to consolidate the whole structure.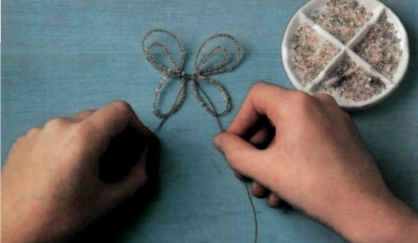 The remaining ends of the wire free of beads, twist in half to form the body of the butterfly. Attach the first elongated bead (body), and then round (your head).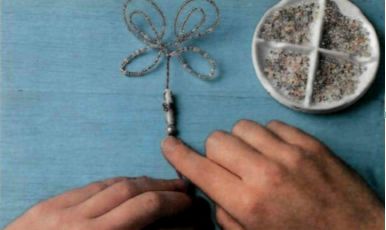 Pry up and forward the body and head of a butterfly — this part should lie flat on top of the wings. The ends of the wire will Obratite around the wings on both sides for fastening of the body.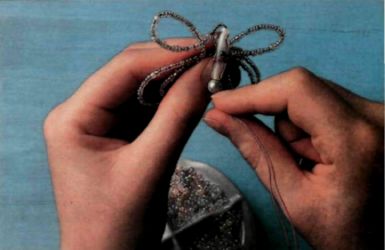 Spread the wire ends to make antennae, and string the beads to the tip of each tendril. Secure them with glue.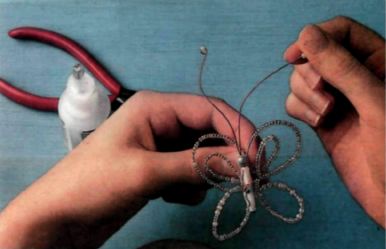 Twist the ends of the wire around the beads in a flat spiral to give a unicam finish.