This elegant wire basket tray will be useful for summer picnics in the fresh air. It is made of sturdy wire, lightweight and comfortable. Wavy wire manufacture with Giga (see "Manufacture of looped wire"). Faceted Moroccan tea glasses were selected because of the unusual colors and patterns, but you can use any other glasses. If desired, the size of the basket-tray easy to change.


MATERIALS
six small glasses
galvanized steel wire diameter 1.2 mm
wire for flower arrangements

TOOLS
paper, pencil and ruler
clippers
household pliers
jewelry pliers
simple gig


Place glasses upside down on a sheet of paper and draw a rectangle of the desired size. Cut a piece of wire equal to the perimeter of a rectangle, adding another 2 cm Mark on the wire the corner points and use the pliers to bend it into the marked points beneath the right angle. At both ends of the wire make a loop, hook and splashlite them. This is the bottom of the basket-tray, as well make top.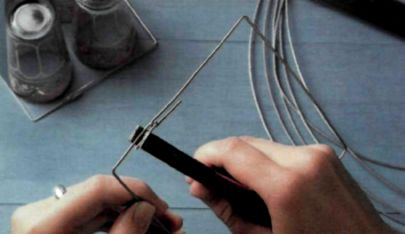 Cut four pieces of wire equal to the length of the base of the basket-tray, and four pieces equal to the width of the base, adding another 2cm to the length of each. Evenly distribute them along the length and width of the base and secure it, turning down the ends around the frame with the pliers. Do the same with the top frame using one longitudinal divider and two cross. You get six square cells for the glasses.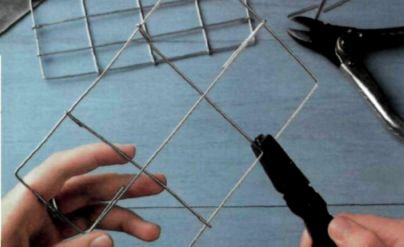 Make them strip looped wire with a width of b cm of this length to wrap it the perimeter of the basket-tray. Prepare a strip of looped wire, bent in the gig, of such length as to be able to wrap it around the base and out of balance to make a pen.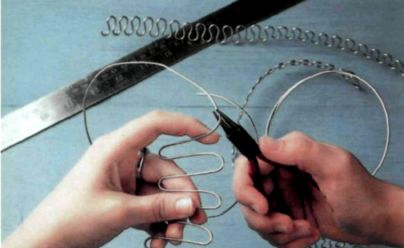 Wire for flower arrangements, attach the looped wire to the long loops of the upper frame, bending it around corners.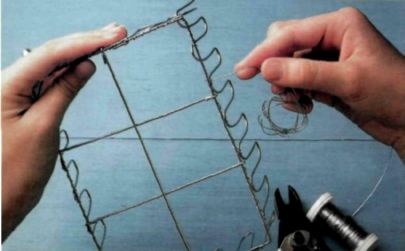 Make two strips of looped wire along the length of the base (see photo) and secure them with wire for floral compositions.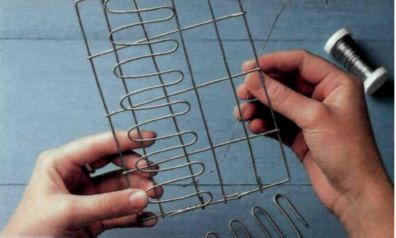 Position the strip of wire looped around the lower edges of the walls of a basket-tray, then put a frame of Foundation and put it all together along the bottom edge.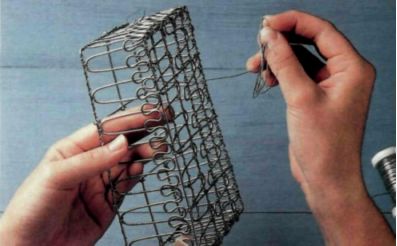 Make a handle by attaching two pieces of wire to the sides of a narrow strip of looped wire. Bend the workpiece in two places at right angle with the letter P — and the pen is ready.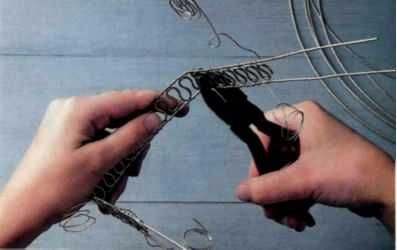 Attach the handle to the basket-tray in the middle of the jewelry pliers, make a decorative spiral of the remaining wire ends.