This soap was invented in February when like sunlight and summer aromas. Mixing essential oils of sweet orange and eucalyptus, you get a sweet, but at the same time very fresh scent.
The main decoration of this soap - calendula petals, which grows on any country site and sold in the drugstore.
However, the pharmacy calendula is most often crushed to almost dust and contains large quantity of impurities from the leaves and seeds. Therefore, it is recommended to prepare the petals of this Sunny orange flower on their own, collecting and drying them in the summer.
Best calendula petals look great in a white soap.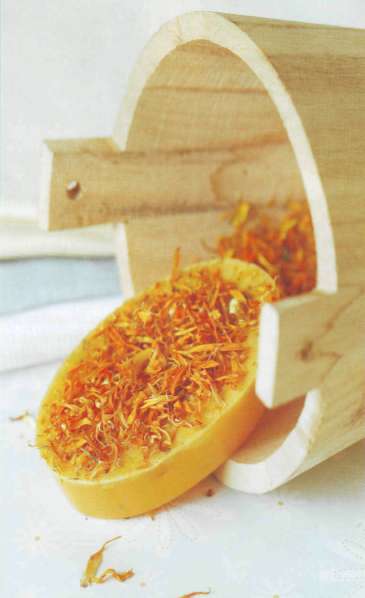 Main ingredients:
• 100 grams white soap base
• 1/3 teaspoon of sea buckthorn oil
• 3 drops essential oil of sweet orange and eucalyptus
• 2-3 pinches of calendula petals
1. Melt the white soap base, make it orange with sea buckthorn oil and add essential oils for smell.
2. Mix well all the ingredients in a mini mixer.
3. To obtain the required texture, add a mixture of calendula petals.
4. Again stir the mixture so that the petals are evenly distributed in it. Work fast - the mixture should remain hot.
5. Pour the mixture
in an oval shape. Part of the petals will settle and create at the bottom forms an interesting pattern.
6. Now sprinkle the petals on top, well they will mesh with the hot surface.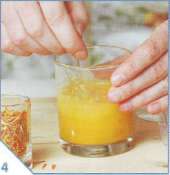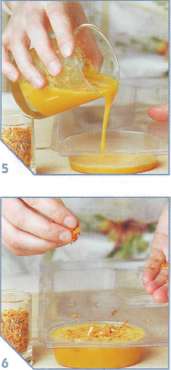 The Council
Petals - a win-win for decoration soap with natural ingredients. Unfortunately, added to soap the petals of some plants are lacking color. So the rose petals become brown and lavender - gray pale. In such cases it is better to restrict the decoration of soap outside.
To enhance the texture of soap, the part is added to a mixture of marigold petals may be crushed.