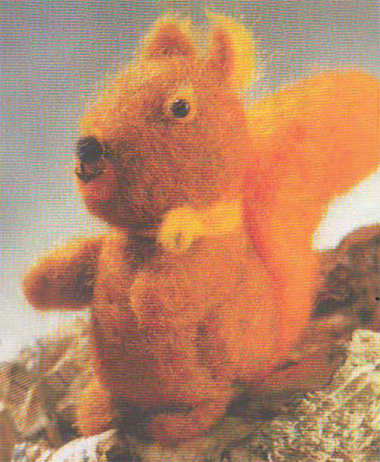 Materials:
wool felting orange, brown, brick and black colors;
Merino wool yellow and orange flowers;
penetrating needle;
mercerized thread black color;
sewing thread black color;
2 wood beads in black, 0 to 4 mm;
embroidery needle;
The sizes of squirrels
the torso in the shape of a truncated cone with a height of 5.5 cm;
head oval length 4.5 cm, width 3 cm.  
Execution:
1. Saleite the head and torso pattern and privalage to each other. Salaita wool for the tail, condense, and formed into the desired shape. 2. Salaita ears, front and hind legs, privalite to the body. The lower part of the trunk will seal with punch needle. 3. Around the mouth privalite a little brown or orange color. From the top, add a little Merino wool orange or yellow. Salaita nose from the wool of black color, embroider mouth mercerized thread. Prevalite mugs of brown or orange fur and sew them wooden beads as eyes.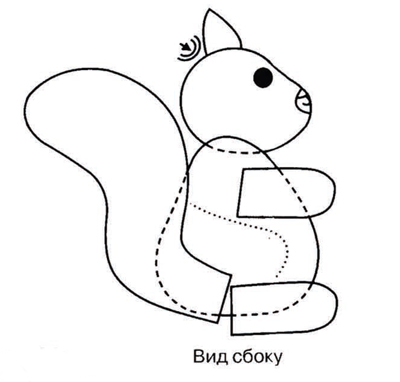 4. Tie a neck scarf made from Merino wool. For the ears sew on beam Merino wool. Felting toys out of wool - squirrels finished.  
Felting toys out of wool - mushrooms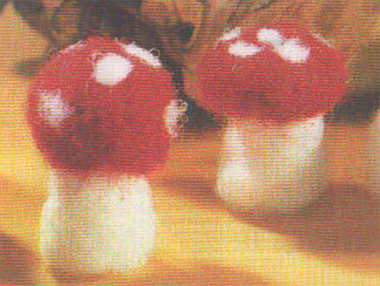 Materials:
wool for felting, white and red colors;
punch needle
The size of the mushroom
hat in the shape of a hemisphere, 2.5 cm;
leg in the form of a cone of height 2 cm  
Execution:
1. Swipe feliziani (salaita) yarn white foot fungus (bottom diameter 21 mm, upper -17 mm), and from the wool red - hat in the form of a hemisphere (see template). Prevalite details to each other. 2. Salaita on the pileus small spots of wool white. The lower surface of the Stipe will seal with penetrating needle so that the fungus could stand. Felting toys out of wool, mushrooms over.