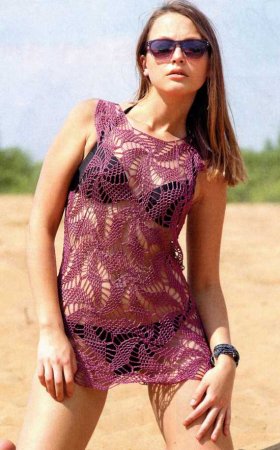 The article describes the crochet tunic for sizes 36-38.
To crochet this tunic, you will need:
yarn "New bamboo" with composition of 100% viscose – 150 g;
hook No. 2.
Pay attention to the yarn which has properties to stretch, and therefore, the manufacturing process need to wet the parts with water and gently dry on a towel.
Work process:
To you got it laced tunic, you need to crochet 34 solid hexagonal details on the scheme 1 + 2 details-half according to scheme 2, each side to an integral part-of the hexagon have to be 8 cm and the maximum diameter is 17 cm
Then you have to connect all the motifs in one solid product according to the proposed pattern. There are two splice variant of motifs: the first is a connection in the process of vyvazhivanija the last row of the hexagon, or the second – connecting ready-made hexagons. Choose which method of connection you prefer.