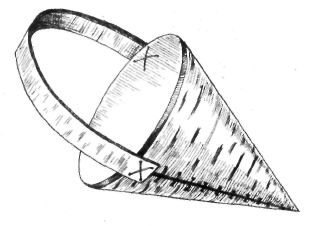 For the manufacture of the basket, prepare the pieces of birch bark (soak, as described above), thread, a sector of a circle of thin cardboard, a wooden block, a needle, scissors, awl.
For DIY suitable piece of birch bark in any shape. On a pre-prepared pattern from birch bark cut out a sector of a circle and stripes. Then the circle sector shape of the funnel. With one edge superimposed on the other, after which the body of the basket and sew prosurvival. Now it only remains to attach the handle of the double-folded for strength strips of birch bark to the edges of the basket. It can be sewn or glued with white glue.
In the basket you can put berries, fruit, candy.