Painted birch bark has long been known, is a traditional kind of art. This files most often painted baskets, and boxes. In different areas have developed their own traditions, particularly painting techniques. Paint, as a rule, a finished product, but for a test take the flat blank, glued on a consistent base.
The bark should be primed. The color can be different, but first let it be white. Take chalk, mix it with liquid joiner's glue to liquid sour cream and this solution a thin layer of cover material. Leave to dry at room temperature. After that, sometimes the surface is covered with whitewash, in some places colored inks. The choice of figure also traditional. It may be decorative flowers, bouquets, branches, leaves, fantastic birds, or scenes from the life of people.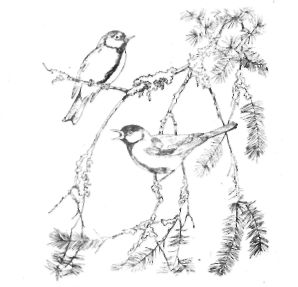 Birds.
Prepare the birch bark, glued it to heavy, based and primed. After full drying start painting, using a previously prepared pattern.
Translate it should be a color or a very old copy paper, as a trace of fat from it on the chalk priming is undesirable.
The main color of the painting can be any blue, pink, green, blue, red. For painting use gouache and tempera paints. The finished painting is better to fix the varnish.