The purpose of shaping the pants was to ensure a good planting of the pants on the figure. Typically, shaping is only used for classic pants. Shaping until the front and rear parts can facilitate WTO final product. Shaping is performed in the following sequence:


No. TNO the Sketch 1 formed into the front of the pants
Details of the front parts of the pants are folded and are placed on the table, right-half up the side sections into a working. Side stepping and cuts delay by 1.2—1.5 cm in the area from the line of the knee to the hem. The resulting slack sativum until the middle of the fore parts. The operation is repeated from the left side of the pants.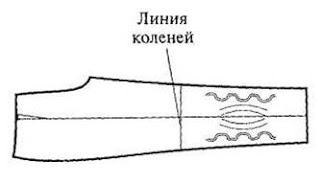 Of the pants divide and fold each separately inside out so that the plot line from the knee to the bottom side of the slice coincides with the stepper and bend was directed to the front fold of the upper pleat (or tuck). The upper part of a step cut in favour of the side cut. Storevault every part of the pants to obtain a smooth line deflection in the lower leg area.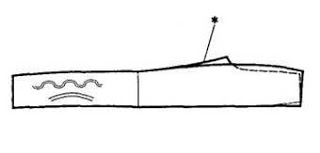 2 formed into the back of the pants
Of the pants is folded, right sides inside, equalizing the slices, lay them on a table, right-half up the side sections into a working. The plot line from the knee to the hem sativum 0.8-1.0 cm first side, and then steps cut.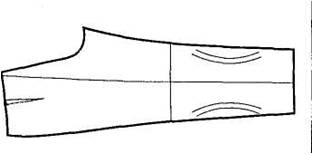 The details laid out on the table processed by the slicer to the running. Retard step cut in the upper part of 2.0 - 2.5 cm, assign it to the side of the cut, at the same time pulled the average slice on the site of the largest recess. Resulting slack staiway to the middle of the back halves.


Of the pants divide and fold each separately inside out so that the plot line from the knee to the bottom side of the slice coincides with the stepper, the sections of the bottom need to be adjusted. Each fold of the trousers should be directed to the upper part of the middle cut (at a distance of 5 - 8 cm from the top). In the upper part of the step cut must defend from the side of the slice. Sativum fold details below the buttocks